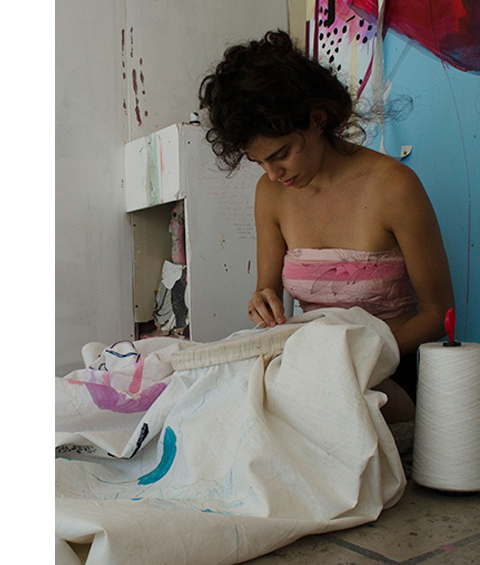 Catalina León was born in Buenos Aires, Argentina, in 1981.
She startsher artistic training in 1998 attending various workshops and, after moving simultaneously among other studies, in2001 decides to devote her self mainly to visual arts. Around those years she studies with artist Mariana López, whom she considers essential to her training, and between 2003 and 2005 participates of the Kuitca Scholarship Programme / Rojas UBA.
Her first solo exhibition, Convertidas en perlas tus lágrimas brotan del mar, took place at Alberto Sendrós Art Gallery, Buenos Aires, in 2004. Followed by Cruz Imaginal, Daniel Abate Art Gallery, Buenos Aires, 2008, after winning in 2007 First Prize of the arteBA / Petrobrás Award with her work Patio ó pintura para piso y plantas; and Muda, Alberto Sendrós Art Gallery, Buenos Aires, 2011.
Since 2005 her works participate in numerous group exhibitions, such as J'enRêve, Fondation Cartierpourl'ArtContemporain, Paris, 2005; Rendez-Vous 2008, Museéd'ArtContemporain, Lyon, 2008; ¿Por qué pintura? Fondo Nacional de las Artes, Buenos Aires, 2009; Escuelismo,90's Argentine Art, Museo de Arte Latinoamericano de Buenos Aires-Fundación Costantini, 2009;Mientras sea posible, Casa de America, Madrid, 2010;PintorAs, Museum of Contemporary Art of Rosario MACRO, Museum of Contemporary Art Saltaand Museum Caraffa, Córdoba, 2010; Palmario, D21 Art Gallery, Santiago de Chile, 2011; Arte Argentino Actual en la colección del Malba. Works 1989-2010, Museo de Arte Latinoamericano de Buenos Aires-Fundación Costantini, Buenos Aires, 2011; Latest TrendsII, Buenos Aires Museum of Modern Art, 2012; Braque Award, Tres de Febrero National University, Provinceof Buenos Aires, 2013.
In 2010 she co-created Vergel, a project that interweaves art, health and education. As coordinator and teacher of the program she conductsits' activities from the palliative care section at Dr. Ricardo GutierrezChildren's Hospital, Buenos Aires. Between 2015 and 2017 she will be the first artist resident at Prisma KH, Buenos Aires.
Currently she is working on her next solo exhibition El sacrificio Inútil at MAMBA (March 2015) and the edition of a book on her work. She will also participate of the upcoming group exhibitions The school of nature and principle (April 2015), at EFA Project Space, New York and My Buenos Aires (September 2015) at La Mason Rouge-Fondation Antoine de Galbert, Paris.